Presenting a poster at the National Conference on Worker Health and Safety is an opportunity to help conference attendees learn about community occupational health and safety projects and research. Poster presenters illustrate their findings by displaying graphs, photos, diagrams and a small amount of text on the poster boards.
The Poster Session will take place on Thursday, December 7th during the Expo @ COSHCON.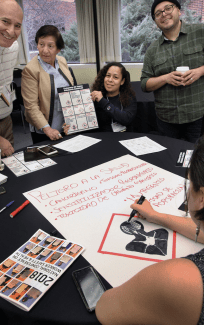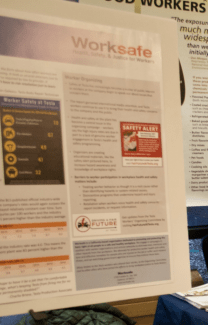 Posters should highlight worker health and safety research and/or campaigns;

Submit poster abstract (up to 250 words) to info@nationalcosh.org by November 15, 2023; and

All poster presenters must register for and attend at least one day of the conference. 
Poster presenters should be prepared to give a brief synopsis of their project (1 minute), be comfortable discussing their project and answering questions about it to conference participants. Posters will be located in the exhibit hall with exhibitors and other informational tables. Student and limited income price available as well as a limited number of scholarships.
Poster Content
Posters should give viewers a high-level overview of projects or research that presenters are involved with. Descriptions of new projects are welcome; you do not need to have research findings to share, although descriptions of any interim outcomes (e.g., establishing a coalition or a community advisory board) are welcome.
Requirements
Poster designers must register and attend either the full conference or one day. The conference fee for students is $325 for 2-3 days or $250 for one day (includes snacks and lunch).   There is an early registration discount until October 21st of $300 full day/$230 one day.
The poster can be up to 3 feet tall by 4 feet wide, mounted.
The poster session will take place on Thursday, December 7th at 2:30pm ET.
The poster designer must remain with his/her poster during the special 45-minute poster session.
Posters must be removed by noon on December 8th
A presenter who fails to show up for their scheduled presentation, without notifying the conference coordinator of cancellation, will not be permitted to present a poster at the following year's conference
Each poster designer will be provided with an easel to hold the poster and a chair. Please make sure to have something to stiffen the poster to be able to place it on the easel.