The We Rise Initiative engages Black and Brown workers in year-round leadership development and engagement. Launched in November of 2022, We Rise leaders come together virtually from across the country each month to learn about workers' rights and organizing approaches. We Rise also supports participants in asserting their voices at the table with employers, policymakers, and the press.
Following graduation from the Leadership Academy, National COSH backs Rising leaders with opportunities for continued peer learning and skill building with their cohort.  Rising Leaders contribute their knowledge and skills by:
Supporting campaigns in their communities.

Engaging in worker committees and collaborations. 

Serving as national advocates and spokespeople for workplace justice and policy campaigns, supported by National COSH stipends.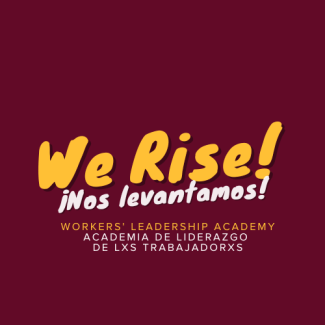 Meet the 2022-23 We Rise Leaders
We Rise leaders are janitors, hotel housekeepers, and construction workers.  Most have labored under unsafe and oppressive working conditions, and all determined to ensure that no worker should have to suffer exploitation and abuse to earn their living.