"We had no money," recalls Derrick Palmer. "We didn't have advice. All we had was two tables and two tents. We said: 'You know what, let's do a worker-led movement. Let's just shoot our shot.'"
Palmer, who works at Amazon's JFK8 warehouse on Staten Island, is vice president for organizing for the independent Amazon Labor Union (ALU). He and his co-workers shocked the world in March of 2022, when a grassroots operation, funded and organized by workers themselves, beat back an aggressive anti-worker campaign from one of the world's largest and wealthiest corporations to establish the first-ever labor union at one of Amazon's U.S. facilities.
Palmer, joining a dynamic panel of worker organizers, told the inside story of ALU to attendees at the opening session of COSHCON2022 – The National Conference on Worker Safety and Health. "The pandemic really opened my eyes to what this company is all about," he said. "We found out that Amazon wasn't going to give us masks, gloves and protection when we needed it."
Bringing together hundreds of workplace activists, union organizers, members and staff from COSH groups and workers centers along with health and safety professionals, COSHCON is a one-of-a-kind opportunity to share strategies to build worker power so we can make our workplaces safer. This year's event highlighted a growing movement for better working conditions.
"The manager always said the priority was the boxes of juice," said Cesar Moreira, a technician at a bottling plant in Wharton, New Jersey owned by Refresco, one of North America's largest beverage companies. "The priority should be the human beings that need to provide for their families with these jobs."
Facing hazardous conditions that included fire outbreaks, raw sewage on the factory floor and repeated worker injuries, Refresco workers won not just one but two union representation elections, choosing to organize with the United Electrical workers (UE). Refresco executives got the first vote thrown out on a ridiculous technicality, claiming the result was tainted because balloting was delayed five minutes while awaiting a translator who was stuck in traffic.
After confirming their victory in a second election, Refresco workers are bargaining for their first contract. They were featured on National COSH's new "Worked Up" platform, which highlights campaigns for workplace justice.  "National COSH had an online petition about safety conditions, we worked together to get signatures," recalled UE organizer Tara McCauley. "Workers went to New York City  to the headquarters of KKR, the private equity firm which owns Refresco… It's having an effect, we're getting movement on workers' demands."
Also highlighted on Worked Up was a picket line organized by Strippers United at Star Garden, a North Hollywood dance club with abysmal working conditions. "There were 32 active OSHA violations while I was working there," Selena, a Star Garden dancer, explained during the opening session of COSHSCON. "The stage was never cleaned. I had an instance where I cut my hand because there was glass on the floor." Star Garden workers successfully petitioned for a union vote to join Actors Equity; ballots were cast in November but have not been counted yet because – surprise – management is challenging ballots cast by workers.
Fighting back – and winning: While clueless executives from New York to California keep trying to create obstacles for workers who organize, hands-on workshop sessions at COSHCON tackled the nuts and bolts of how to identify – and fix – the conditions that lead to illnesses, injuries and fatalities on the job.  Topics covered this year included:
Know your rights: Knowledge is power – and Luzdary Geraldo from NYCOSH provided a step-by-step guide explaining that employers are obligated to display, each year, a summary of injuries and illnesses in the workplace. "It has to be visibly displayed in English, and the language the workers speak," she said. 

Incident investigation: Presenters Jim Howe of Safety Solutions and Juan Zuniga from the United Steelworkers emphasized that when something goes wrong at work, it's crucial to push back on management's typical procedure, which is to blame workers instead of looking for root causes. "When investigating a workplace incident," they caution, "do not assume malicious intent. Do not assume recklessness. The organization, not the worker, creates the environment."

Big wins in the fight against sexual harassment:  A workshop led by Elizabeth Pellerito from the UMass Lowell Labor Education Program, Jessica Stender from Equal Rights Advocates and Andrea Johnson of the National Women's Law Center pointed out major victories achieved by the "Me Too" movement: 22 states have passed 70 anti-harassment reforms. There's more work to do, panelists noted, to stop retaliation and protect marginalized workers.

Also on the agenda at COSHCON this year: Campaigns to improve indoor air quality, protecting workers from climate change, temp and gig worker campaigns, overwork and short staffing, confronting race and health equity, advocating for injured workers… and collective bargaining to make our workplace safer!
Our movement in the media: A highlight of this year's conference was a panel featuring top journalists talking about how important safety stories are told – or sometimes not told – in today's fast-changing media environment.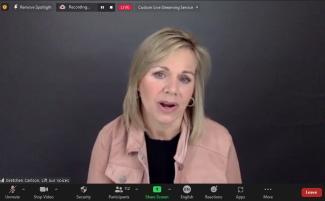 Gretchen Carlson, the former network broadcaster who filed a landmark harassment lawsuit against Roger Ailes and Fox News, shared exciting news. On December 7 – just a day before she joined us at COSHCON – President Biden signed the Speak Out Act. Championed by Lift Our Voices, a non-profit that Carslon co-founded, the new law prohibits the use of nondisclosure agreements to cover up incidents of workplace sexual harassment and assault. "We have shined a light on the mechanisms that have allowed harassment to persist," Carlson said. "Light serves as a disinfectant, helping to clean up the abusive practices in many workplaces across the nation."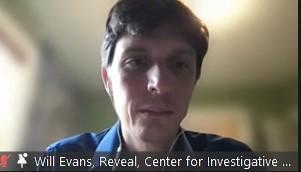 Will Evans from the Center for Investigative Reporting (CIR) shared details about his work getting to the bottom of the extremely high rate of injuries suffered by workers at Amazon warehouses (one of the key motivations for organizing campaigns at JFK8 and elsewhere). "Injury numbers can be deceptive," said Evans. "Employers can game them to make themselves look better than they actually are, and some employers systematically undercount, or force workers to work injured." Gaming the system will get harder, however, now that a CIR lawsuit has forced OSHA to publicly release the annual injury and illness reports compiled by employers.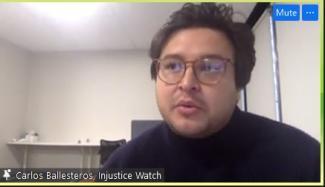 Carlos Bellesteros from Injustice Watch spoke about his groundbreaking research on the desperate conditions faced by elderly undocumented workers, who may have paid into public health care and retirement programs for years, but never receive any benefits. "The federal government has made it harder to naturalize or legalize their status," he said. "There is no line for them to get into; they are stuck permanently in the shadows."
On the line with OSHA: Participants in COSHCON had a unique opportunity for an open-ended question and answer session with top leaders from U.S. OSHA, including Doug Parker (former executive director of National COSH affiliate Worksafe) who heads the agency as assistant secretary of labor of occupational safety and health.
OSHA's current vision, said Parker, is that "workers have an active voice and active role in ensuring their own health and safety." Responding to questions about how that vision will be achieved, Parker acknowledged the agency needs to do more to meet the needs of America's diverse workforce.
"We don't have enough speakers of languages that are spoken by monolingual workers," he said. "We don't have enough Spanish speakers in particular." OSHA is actively recruiting a more diverse workforce of inspectors, outreach workers and other staff, Parker said, and investing $500,000 in translation services.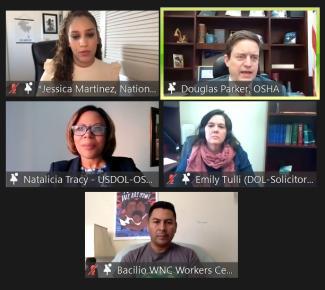 OSHA's top regulatory priorities in the coming year, Parker said, will include standards of extreme heat and workplace violence, as well as "a COVID-19 rule for healthcare, building on that to create an infectious disease standard so we are ready for the next pandemic."
Health and safety heroes:  We were delighted to honor, as we do each year, the inspiring organizers and advocates who are on the frontlines of the fight for improved health and safety. This year's winners: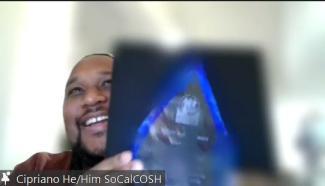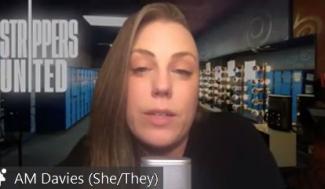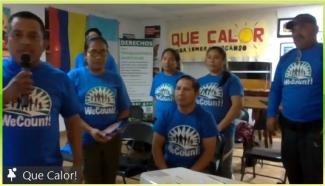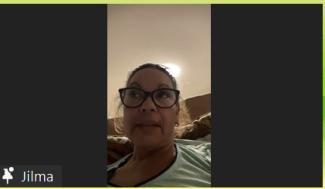 "The most extraordinary way to defend ourselves:" In our closing session on December 15th, COSHCON participants had a chance to hear from worker leaders who are part of We Rise, a new National COSH initiative to empower workplace leaders who identify as Black, Indigenous and/or People of Color (BIPOC).
"I have learned a lot through these workshops," said Nelson Nuñez-Chavez, an organizer with Workers' Dignity in Nashville."I think that it's going to be very helpful to put it in practice in the day to day work that we do.  We want more people to know that the United States is a disaster for African American people and the Latino community; we  are receiving a lot of abuse."
"This is the first time I've taken part in a COSH workshop and I am very much impressed," said Maria Elstner, a domestic worker in South Texas who is a member of Border Workers United. "I learned new terminology, like 'engineering controls' and so many other terms that we have to be able to understand and share with our fellow workers."
"We organize with folks who don't have any kind of protection," Elstner explained. "To be able to provide these kinds of tools and this kind of knowledge has been so important. It's really the most extraordinary way for us to defend ourselves."
Thanks to inspiring speakers like Elstner, Nunez-Chavez and many other panelists, presenters and participants, attendees at COSHCON2022 came away fired up and ready to tackle big challenges in 2023. We'll see you all soon, as we collaborate to build power for workers, clean up our workplaces and stand up together for safety and dignity on the job.
COSHCON2022 Sponsors
American Federation of State, County and Municipal Employees (AFSCME) ⬥ American Federation of Teachers (AFT) ⬥ Center for Work, Health and Well Being, Harvard T.H. Chan School of Public Health ⬥   CoWorker.org ⬥ International Association of Machinists and Allied Workers – CREST ⬥ International Brotherhood of Teamsters (IBT), Health and Safety Department ⬥ International Chemical Workers Union Council (ICWUC) ⬥ International Union of Bricklayers and Allied Craftworkers (IUBAC) ⬥ International Union of Painters and Allied Trades (IUPAT) ⬥ MDB, Inc. ⬥ Motley Rice, LLC ⬥ National Education Association (NEA) ⬥ National Nurses United (NNU) ⬥ Natural Resources Defense Council ⬥ Oxfam ⬥
Restaurant Opportunities Center ⬥ United Food and Commercial Workers (UFCW) ⬥ United Steelworkers (USW)