Immigrant workers provide us with essential products and services - yet often toil in the most dangerous and least paid jobs. Employers use workers' immigration status and desperate need to earn a living to silence them. When any worker is unable to speak up about dangerous conditions, all workers are at risk of injury, illness and death.
The National COSH Network supports immigrant workers so they have tools and resources to assert their voice, power and influence in the workplace and in policy arenas. 
The Right to Speak up Safely
The National COSH Network provides opportunities for immigrant workers to assert their voice and influence through:
Training and leadership development programs:  National COSH and our affiliates bring workers together to deepen their roles as peer trainers and national advocates. 
Support for worker-led campaigns:  Through Worked Up, National COSH amplifies workplace campaigns and provides a platform for workers to speak up and for the public to lend support.
Advocacy platforms: COSH worker leaders lead advocacy efforts to ensure that their work is prioritized and valued by government agencies and employers.  These priorities make up a core part of the National Agenda for Worker Safety and Health, presented by workers with the COSH Network and allies to the Biden Administration.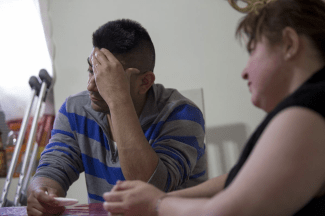 National COSH and the COSH Network of local advocacy organizations are spearheading local, state and national workplace and public policy campaigns on a crucial, emerging issue: Ensuring that all workers – including immigrants – can speak up about safety and health hazards without fear of employer retaliation.
Workers must be able to identify and speak about safety concerns so they can access appropriate medical treatment for illnesses and injuries. Workers also need freedom to speak out about safety so they can partner with employers and regulators to reduce and eliminate workplace hazards.