You are here
Workers' Memorial Week 2018
Workers' Memorial Week 2018:
Love, Support – and Standing Up for Safety
From California to Connecticut, from Texas to Tennessee, from Maine to Montana, Workers' Memorial Week was observed in scores of communities across the United States in 2018.

Prayers, poems and vigils honored workers who had lost their lives. In churches, synagogues, City Council chambers and at outdoor rallies, family members, workers, union members and advocates read aloud the names of those who will never again go home to see their families.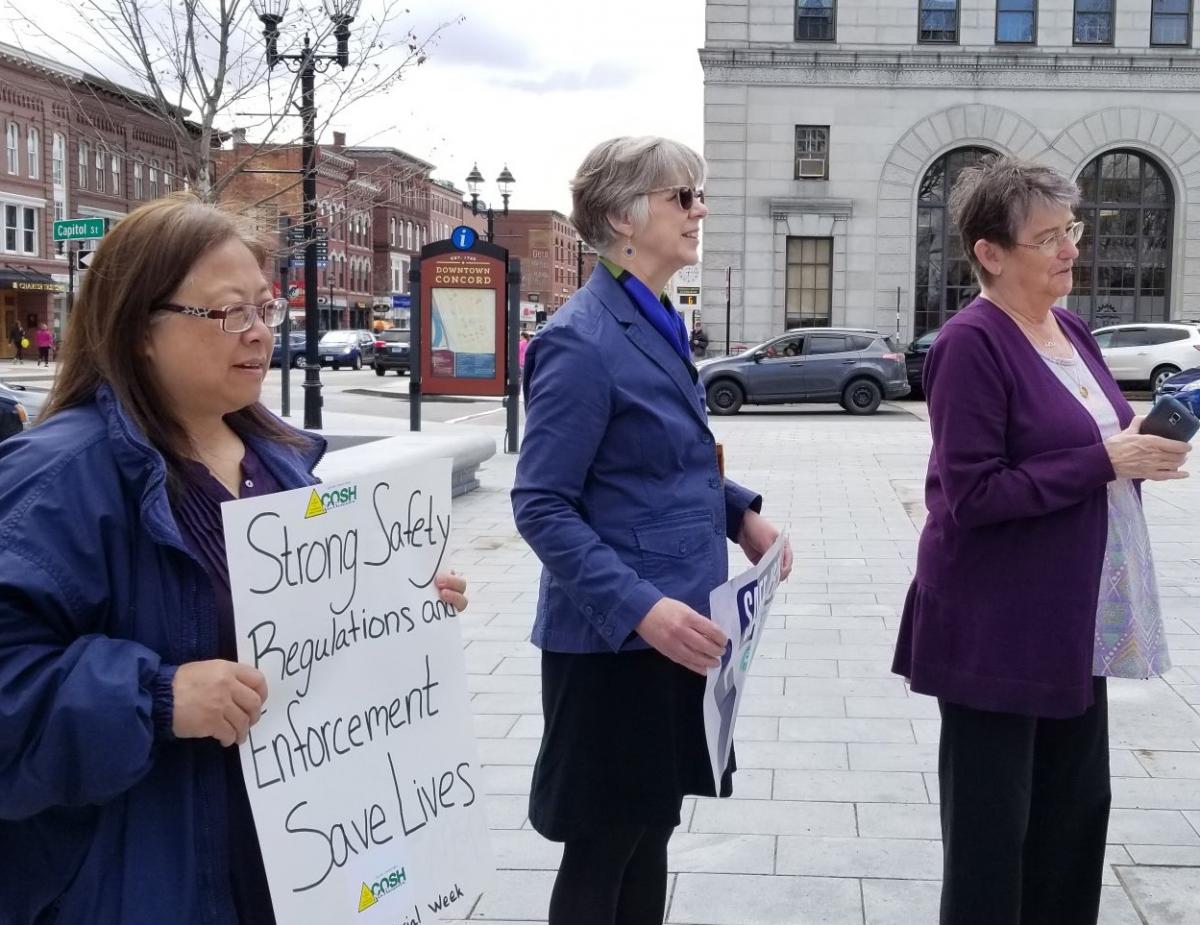 New Hampshire COSH vigil at State House in Concord, April 26th

"COSH is like a second family, very loving and supportive," Samantha Wooten told the Manchester (NH) Ink Link. "For this year's new families, it's hard, but I tell them they will learn there are people here to support them."

Wooten's father, Tom Wooten, was crushed between a tractor and a trailer while at his job for the Department of Public Workers in Northfield, New Hampshire. After the preventable tragedy, Samantha joined the board of directors of New Hampshire COSH and became an advocate for stronger safety rules for public sector workers. She joined the NH COSH Memorial Dinner on April 24th this year, where the names of 11 workers who lost their lives were added to a memorial plaque. On April 26, NH COSH followed up with a vigil outside the New Hampshire House of Representatives.                                                                                                 
Other highlights from this year's WMW events:

Oakland, CA: The UC Berkeley Labor Occupational Health Program (LOHP) joined Worksafe at Oakland's Asian Cultural Center on April 27. Their Workers' Memorial Day event focused on workplace violence, the second leading cause of death among California workers. Worksafe also released Dying at Work in California, which documents 376 deaths from workplace trauma in 2016 – more than one a day. "We need stronger laws, more robust enforcement, and genuine worker participation to reach the goal of zero worker deaths," says Worksafe Managing Attorney Jora Trang.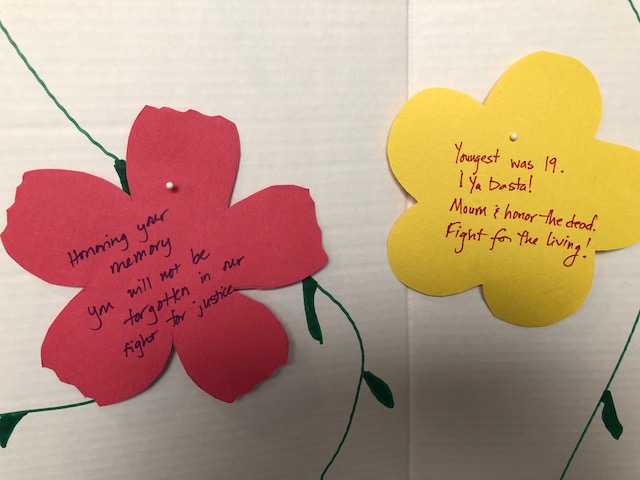 Workers' Memorial Day in Oakland: "Mourn and honor the dead, fight for the living"
Augusta, ME: Active and retired workers gathered for a memorial breakfast with the Maine Labor Group on Health (MLGH) on April 27 to remember 17 Mainers who died on the job or from occupational illnesses in 2017, as well as two workers who died so far in 2018. "We're here for them, for the people we know as well as those who know the families," said MLGH director Linda Doran. "We share their pain."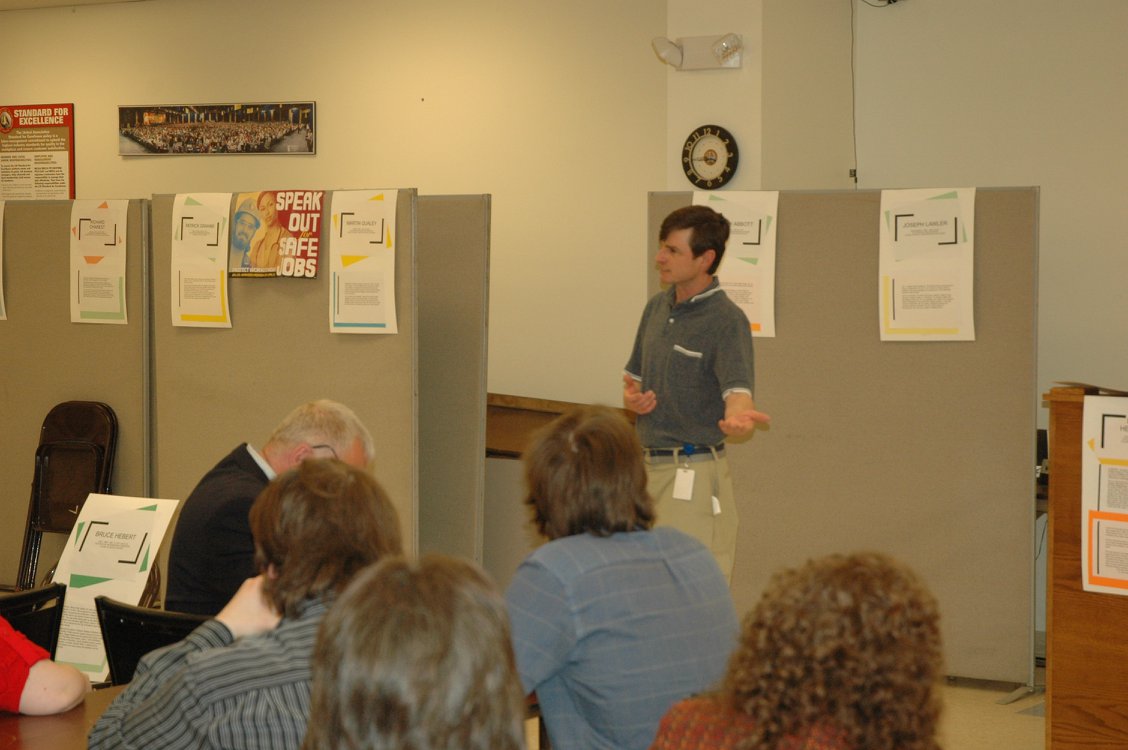 Honoring those who lost their lives at AFL-CIO headquarters in Augusta, Maine

Boston, MA: MassCOSH released "Dying at Work in Massachusetts" on April 26th, documenting 74 workers who died of occupational injuries sustained on the job from January 2017 to March 1, 2018 – the highest figure in 11 years. 
On April 28th, workers and families joined with MassCOSH to read all 74 names outside the Massachusetts State House in downtown Boston. Among those in attendance: The daughter and sister of Kelvin Mattocks, who died in a trench collapse; friends and family of Leezandra Aponte, who died during her first shift at an auto auction site; and the weeping young children of Mark Camire, crushed to death by a rock at a construction site.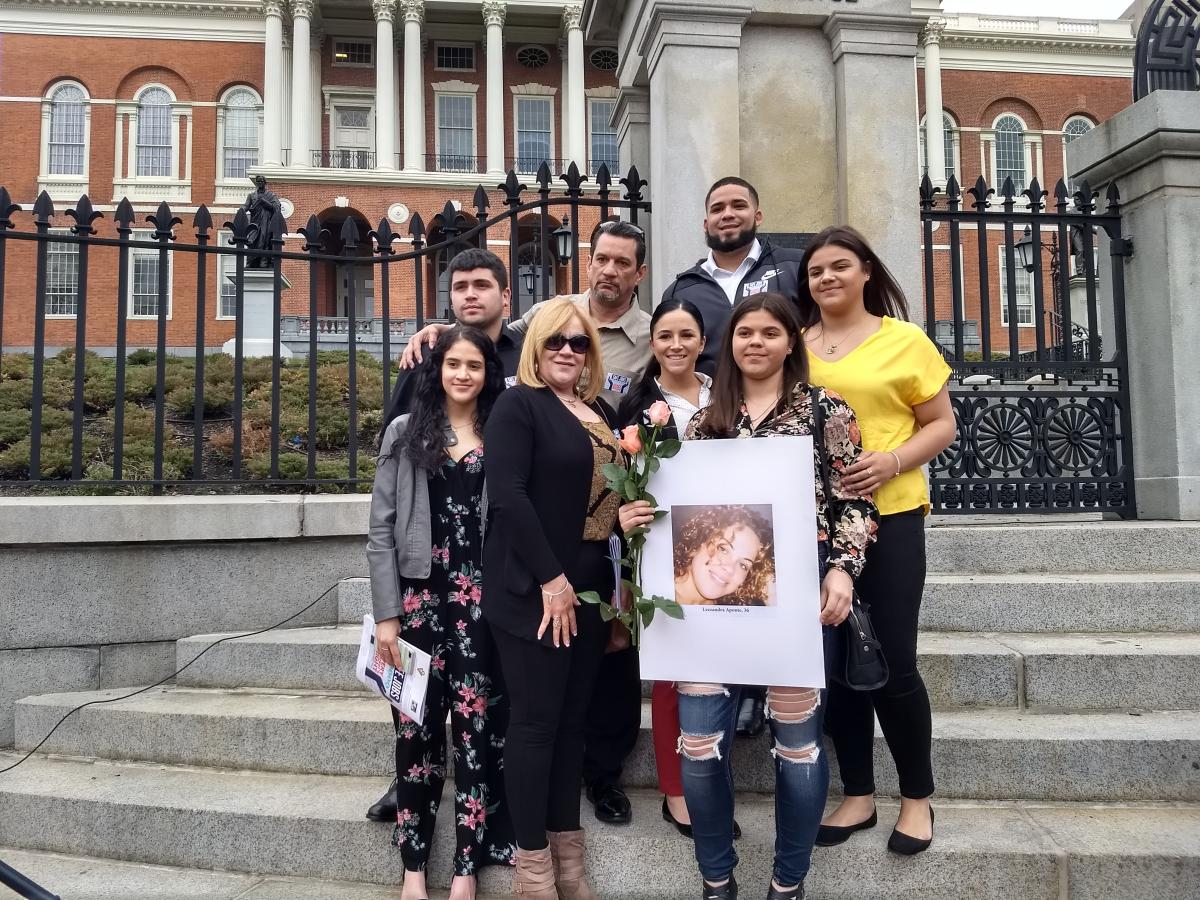 Remembering Leezandra Aponte in Boston

New Brunswick, NJ: Hundreds of workers, immigrants, environmentalists and health professionals gathered on Sunday, April 22 for a joint observation of Workers' Memorial Day and Earth Day, highlighting the connection between climate change and worker safety. The event was organized by New Labor, the New Jersey Work and Environmental Council (NJWEC) and other labor, environmental and community partners, working to advance climate justice and worker justice.
"Climate change is already a public health emergency, and the impacts on workers and communities are only going to get worse," said NJWEC Executive Director Dan Fatton. "We recognize that if we want to protect workers and provide safety for everyone, we must reduce greenhouse gas emissions. The cost of inaction is too high."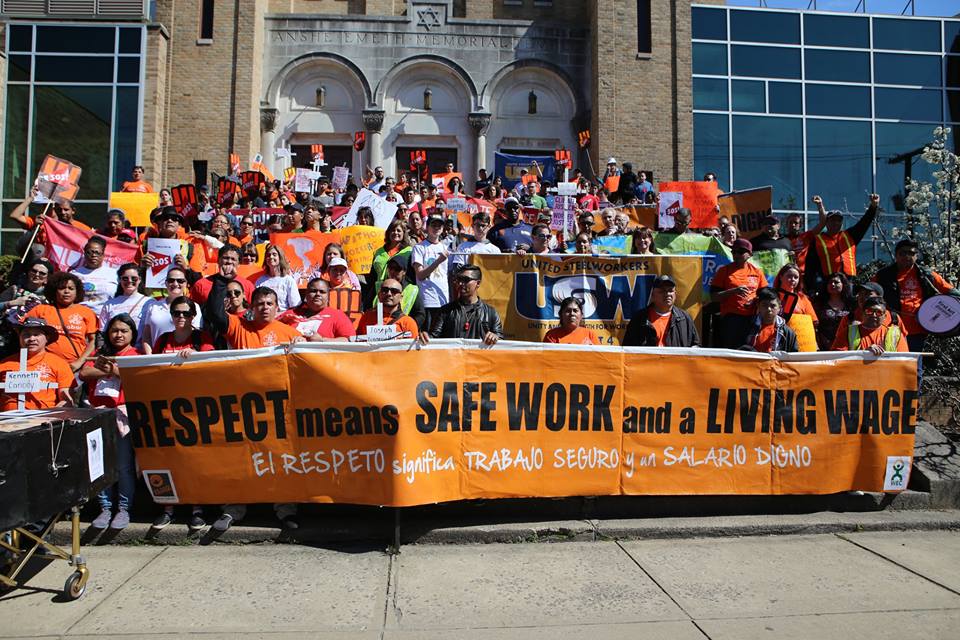 Workers and environmentalists rally in New Jersey on April 22 for a joint observance of Earth Day and
                                  Worker's Memorial Day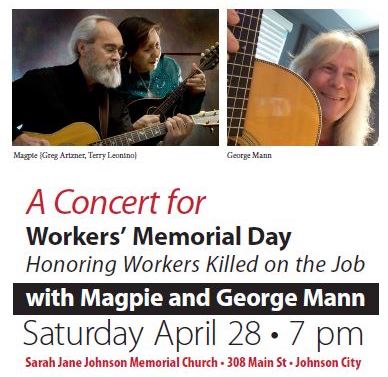 Johnson City, NY: MidState COSH, based in Ithaca, joined with the Binghamton-based Occupational Health Clinical Center and the the Broome Tioga Labor Council to sponsor a Workers' Memorial Day concert on April 28th in Johnson City.
Featuring George Mann and the duo Magpie (Terry Leonino and Greg Artzner) members of the Musicians' Union Local 1000, the concert honored the memory of those killed on the job with music, singing and singing and sharing about the safety and health hazards. Eight workers were killed on the job in the eight county areas where Midstate COSH trains workers, supervisors and advocates for safety and health on the job.

Latham, NY: NENYCOSH partnered with the Capital District Area Labor Federation, the Public Employees Federation and the New York Council of Churches for a Workers Memorial Day event in New York's Capital District on April 27. Board member Anne Marie Gibson talked about each of the workers from the Capital District who died on the job: their age, occupation, and circumstances of their preventable deaths.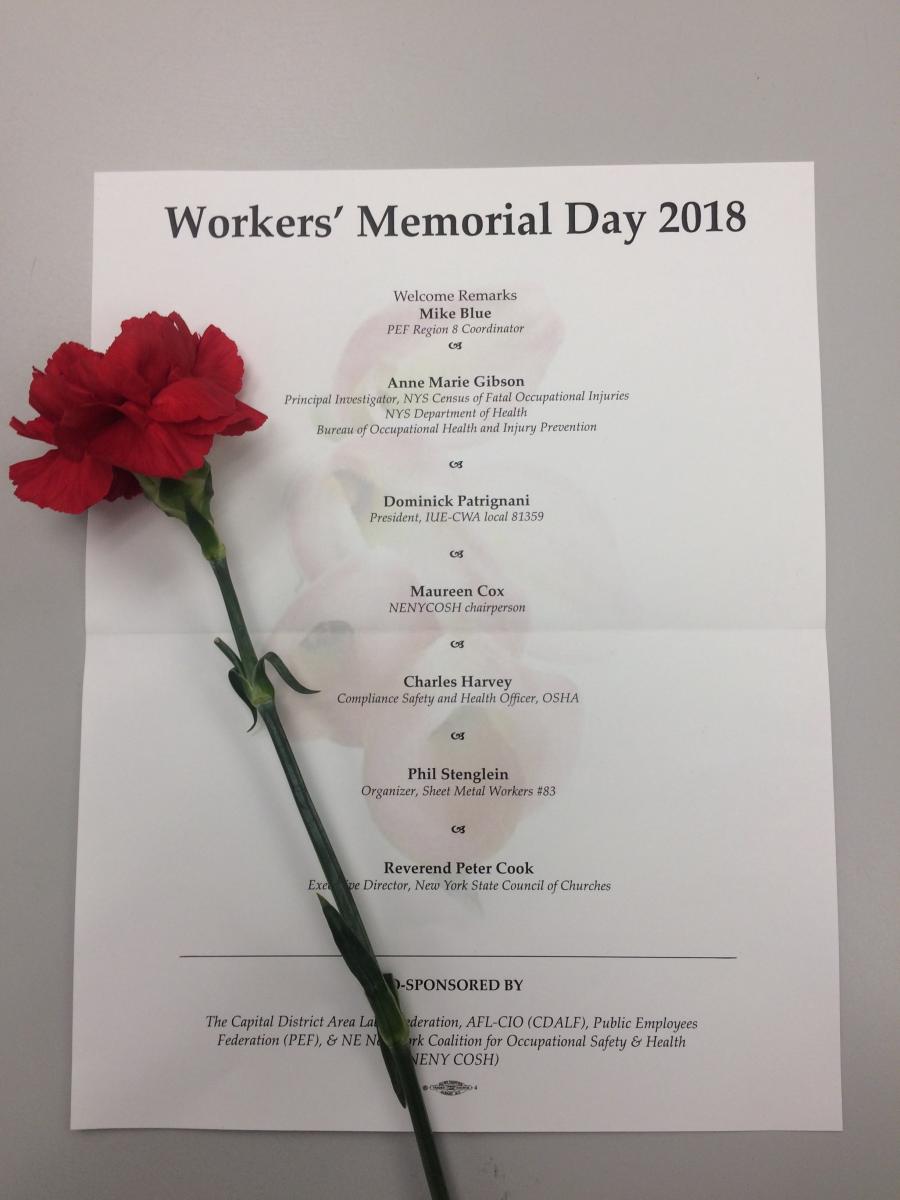 Program for Workers' Memorial Day event in Latham, NY

Providence, RI: To observe Workers' Memorial Week, RICOSH offered a free Hazard Communication Training on April 26, to educate workers and prevent future illnesses, injuries and deaths. On May 5, RICOSH joined Rhode Island Jobs with Justice to commemorate the life of Rev. Martin Luther King. The event highlighted King's last crusade; in April 1968 he traveled to Memphis to support striking sanitation workers. The walkout for better pay and safer working conditions began after workers Echol Cole and Robert Walker were crushed to death in the back of a defective garbage truck.
Knoxville, TN: The Knoxville Area Workers' Memorial Day Committee observed Workers' Memorial Day during worship services at St. James Episcopal Church on Sunday, April 29. The names of the 23 workers who lost their lives in the workplace in East Tennessee in 2017 were read aloud and a Zen meditation bell was rung after each name.
Following the service, congregants were invited to view an exhibit featuring pictures of workers who lost their lives in work-related accidents or because of toxic work conditions. Each photo was accompanied by a brief biographical text, explaining who the person was and how they died. Members of the congregation were visibly moved by the stories of preventable suffering and death.
Houston, TX: A coalition including Fe y Justicia Worker Center, Workers Defense Project, the Texas AFL-CIO and LIUNA came together for a Day of Action at the Houston City Council on April 24, to remind council members of how unsafe working conditions end in fatalities.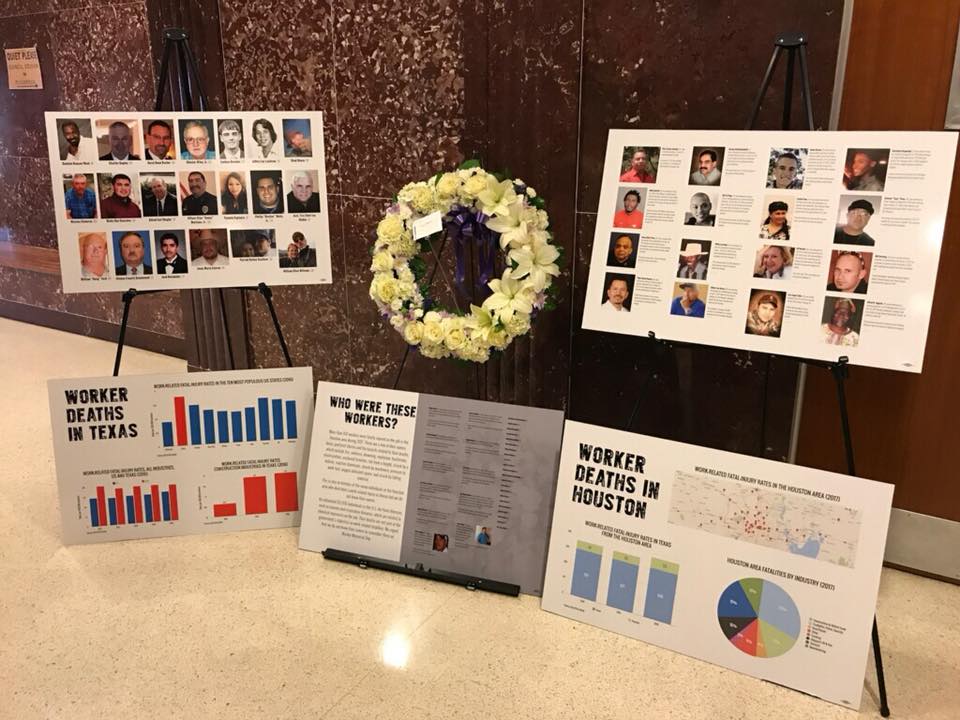 Honoring workers who lost their lives at the Houston City Council
Council members stood in silence as Marianela Acuña Arreaza, executive director of Fe y Justicia, read the names of more than 100 workers who were fatally injured on the job in Houston in 2017. Afterwards, five members of council expressed interest in further dialogue about a Responsible Bidders ordinance that would create improved safety conditions for Houston workers.
On April 28, Fe y Justicia and partner organizations sponsored a Workers' Memorial Week vigil and dinner at the Seafarers International Union hall in Houston. The event began with a beautiful prayer from Rev. Simon Bautista, board president of Fe y Justicia. It also included a presentation about the history of Workers' Memorial Day by Dr. Celeste Monforton and a poem written by the brother of Josue Zurita, who died on the job in 2017.
Let us know if you have photos and/or stories from a Workers' Memorial Week event. Please share with roger@nationalcosh.org. Thanks!
Log in to post comments

5981 reads